Products Cavalry Roofing Uses For Roofing, Siding & Gutters
At Cavalry Roofing we only offer high quality products which means there are no upgrades. You get reliable and durable materials every time at no extra cost. We use CertainTeed Landmark for roofing, Ply Gem Mastic for siding and Ply Mac Seamless for gutters; these are long lasting, low maintenance and beautiful products!
ROOFING PRODUCTS

CertainTeed Landmark shingles are a top shelf roofing product that are reliable and low maintenance. These shingles have a dual layer design that gives your roof dimension and come in over 25 different colors which allows you to select the perfect look for your home. Landmark shingles come with a comprehensive warranty, Class A fire-resistance rating, and is certified as the industry's toughest third-party manufacturing quality standards.
The warranty includes a lifetime transferable warranty, 10-year streak fighter warranty (covers streaking and discoloration caused by algae), 10-year SureStart warranty (100% replacement and labor costs due to manufacturer defects), and a 15-year 110 mph wind resistance warranty.
SIDING PRODUCTS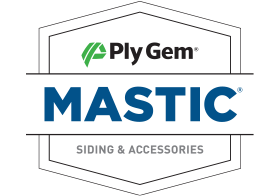 Ply Gem Mastic siding is a premium vinyl siding product that is durable, eco-friendly, and requires very little maintenance. Mastic products were designed to withstand all types of extreme weather and has become the number one choice among contractors. Mastic siding comes with a VIP limited lifetime warranty through Ply Gem. The warranty covers the product for as long as you own the house and up to 50 years from original installation for new homeowners that you may sell to. This siding comes in a wide variety of colors in lap, vertical, and shake and shingle options which means you are guaranteed to find an option that fits your style.
GUTTER PRODUCTS

Ply Gem Seamless Gutter systems top quality gutter that are strong, low maintenance and attractive. Ply Gem's Seamless Gutters are extremely durable and impeccably constructed to protect your home. What makes them different is their advanced hanging system (which provides added grip for extreme weather) and their two-coat finish (which reduces rust and ensures long lasting performance). Ply Gem's gutters come in more than 20 colors which allows you to find the best option to accent your homes design. The best part is that they come with a 20-year premium warranty.